2M has operated in the Atlanta area since 1995 providing commercial program management services to the private and public sectors. 2M is certified by the Georgia Department of Transportation (GDOT) as a DBE Certified company, and by the City of Atlanta as a Women Owned Business Enterprise.
Ms. Morrow was responsible for the 2003 design and construction oversight of Fulton County Government's first LEED certified building and the State of Georgia's first LEED Silver Public Library – East Atlanta Library (EAL).
In June 2005 the library was featured on the front cover of "Georgia Library Journal", was named as the Best Library Branch in Atlanta for 2005 and published in the Library Journal / January 2006 edition. EAL's 4D time sequenced high-resolution video animation won a LEED Innovation in Design Credit for showing-off the LEED technologies used on this project and for 2M's Vice President, Leonard Morrow's explanation of the benefits of LEED.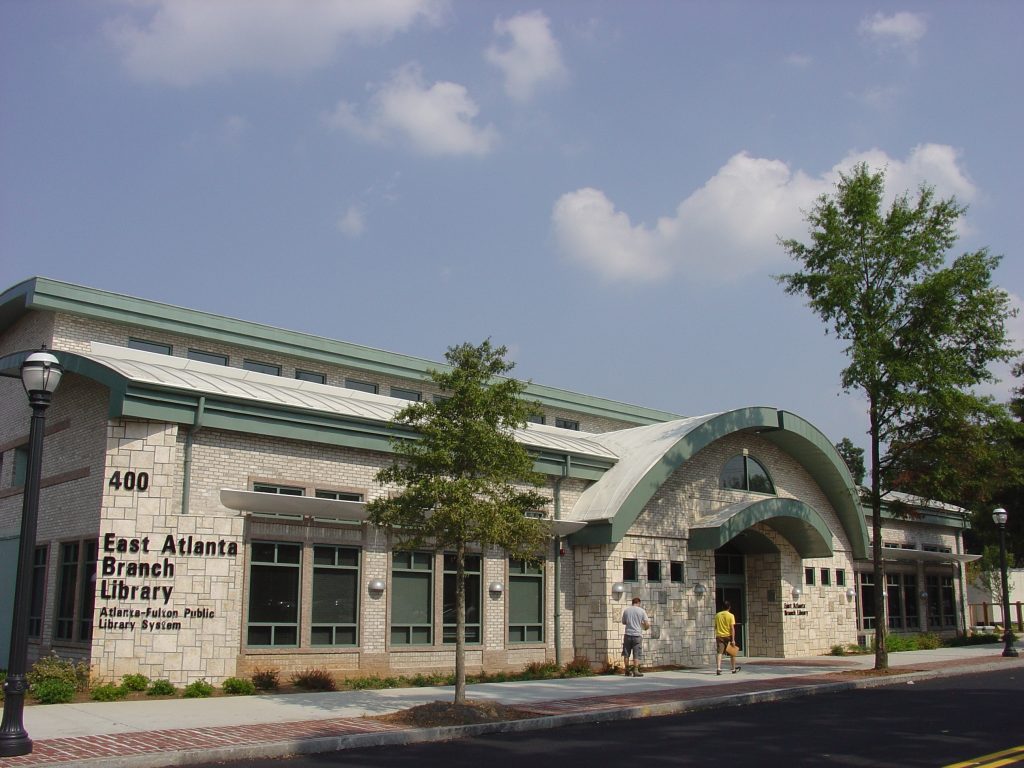 Thanks to a great team, everything synchronized to make this project remarkable, resulting in a state-of-the-art video bringing information that effectively explained LEED categories in a way simple enough for children to understand. Today this video remains an excellent teaching tool for the LEED rating system. See video: YouTube – East Atlanta Library – Leonard Morrow.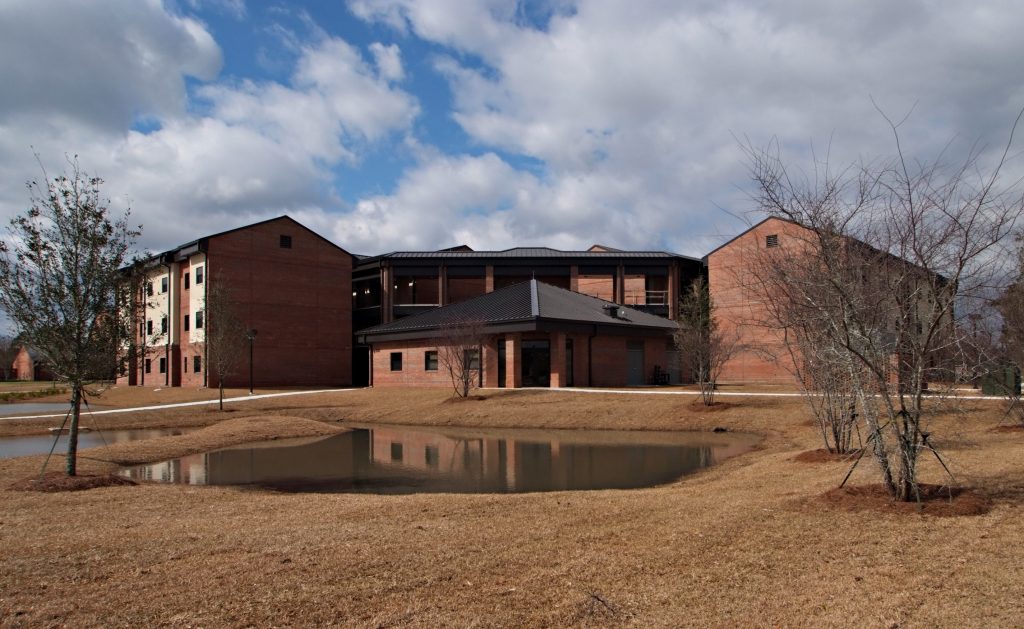 In 2010, our team was responsible for the U.S. Department of Defense's 120 Person BRAC Dormitory construction project at Moody Air Force Base, and; other LEED certified military construction projects.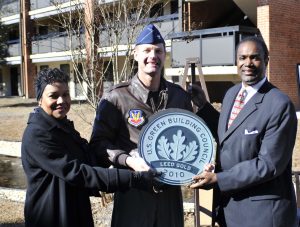 Moody Air Force Base 120 Person BRAC Dormitory Achieves LEED GOLD Certification and is DoD's First LEED Gold Residence Hall: Moody BRAC Dormitory, a 120-person facility built by the U.S. Army Corps of Engineers, Savannah District at Moody Air Force Base Ga., was awarded LEED Gold Certification by the U.S. Green Building Council. This $15.6 million 46,791 square-foot dormitory project was completed October 2010. The design incorporates recycled building materials, such as wood doors, carpet and wall tiles, recycled structural steel, and metal roofing.
Local suppliers provided most of the materials reducing the amount of energy needed to transport them and adding a boost to the local economy. The facility was constructed of autoclave aerated concrete panels. These economical, sustainable, solid blocks provide much greater thermal insulation than conventional masonry, resulting in added energy savings. The largest energy efficiency comes from the geothermal ground water heating and air conditioning system. The system draws excess heat from inside the building, and the underground piping carries the heat into the ground for the earth to absorb.
2M has provided LEED Administration and Commissioning oversight since 2011 on the Phases I & II Atlanta-Fulton Public Library System's Capital Improvement Program valued at $275M. Each Phase I Library project achieved a LEED Gold or Silver Certification.
Some of our Major Projects: Milton Library, Wolf Creek Library, Auburn Avenue Research Library on African American Culture & History and Metropolitan Library.
2M authored Fulton County Government's Sustainability + Resilience Plan (SP+R) that was unanimously passed by the Board of Commissioners on June 5, 2019.

Guiding Principles of Sustainability + Resilience
Protecting Our Natural Resources
Our warm southern climate produces plentiful hardwood and pine forests, making the area an exceptional place to live and visit. The main source of drinking water flowing out of the north Georgia mountains is the Chattahoochee River where trout are plentiful. These nature resources must continue to meet our needs without compromising the ability of future generations to meet their needs.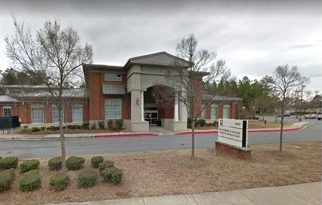 2M is providing LEED Administration Oversight for the CBRE-H.J. Russell JV Program Management Team (PMT) on behalf of Fulton County Public Library System's Capital Improvement Program. On each of our 21 Phase II Library projects we are on track to achieve LEED Silver Certification. Phase II includes the renovation of the LEED Silver East Atlanta Library.
2M's Ocee Library is also being renovated under Phase II. In 2003, the Ocee Library project was managed by Belinda and built by EDT using the LEEDv2 Rating System as a pilot project.
Cleveland Avenue Library – Fulton County Government's 1st Solar Project is being managed by 2M. A $50K matching grant was provided by GEFA,
Georgia Environmental Finance Authority .
Solar PV System's Inverters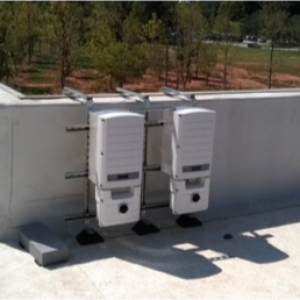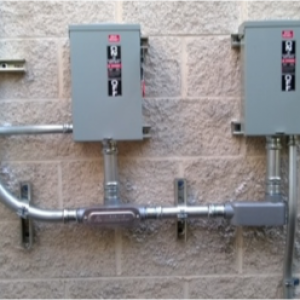 Corporate Sustainability Policies
2M writes Corporate Responsibility reports and policies for our clients:

2M is among an elite group of professionals credentialed by The Green StandardTM, (TGS) as Green Purchasing Accredited Professionals (GPAP) to design and implement science based, user friendly programs for evaluating and selecting sustainable products for the private and public sectors using third party verification to certify results. TGS developed the first Environmental Product Declaration System created to meet the needs of North American manufacturers and purchasers. The Green StandardTM is a system for sustainability data administration using ISO 14040, and ISO 14025.
Other Sustainability Services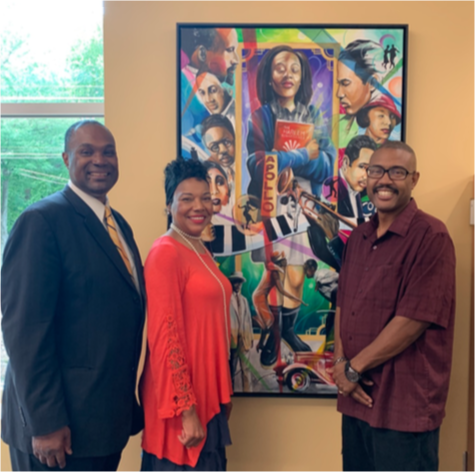 West End Library
Art: Back to Harlem
By Henry Blackmon
(pictured with 2M)
Sandy Springs Library
Art: Lonely Sparrow
Artist: Gerald Burch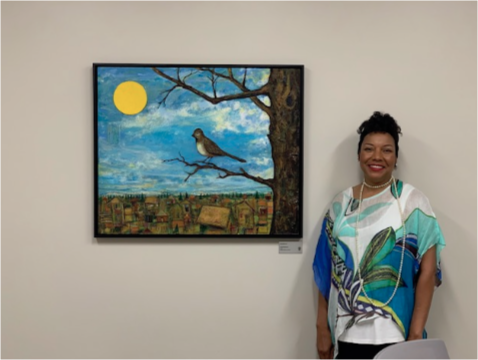 Looking for Sustainable Solutions?